July was quite a busy month for Gazer Press. Here is a brief overview of what has happened in recent weeks.
The short OSR-adventure "Call of the Toad" is now available in English. The LotFP compatible module is again set in Bruckstadt and leads the players on the tracks of the toad demon Joz'Quatl. You can find the 24-page booklet+PDF for 7,50 Euro in our e-shop.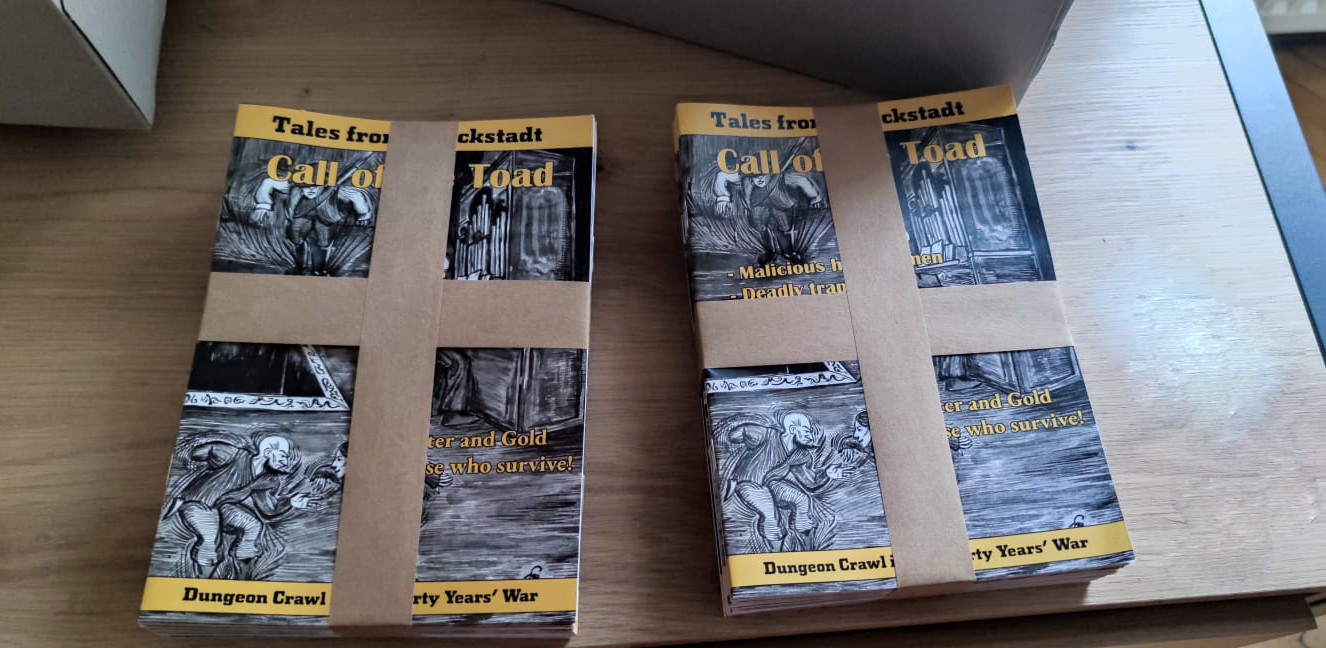 New series: Stories from Bruckstadt

"Call of the Toad" was the first part of a loose series of short adventures, playing in the Thirty Years' War, which will be continued under the title "Stories from Bruckstadt".
The second part is already being written. This much can be revealed: Falsely arrested as spies and robbed of their winter coats, the PCs start in a damp and cold cellar hole of an inn. To avoid summary execution at the next sunrise, they have to come up with something.

The players have the choice between fight or flight, and for this they first must obtain the necessary winter clothing. If they want to save their lives, tough decisions have to be made. Moral dilemmas included.

This booklet will also be published in German and English and will be available as a bundle, Print+PDF.

For some time now, "Der Heilige von Bruckstadt" is also available as a print version in English, you can order the book here, the English PDF can be found here.

"Baphomet's Son" in print

On another front of the Thirty Years' War there is news as well: At the end of July, we were able to finish the layout work on "Baphomets Son". The printer in Lithuania will soon start the presses and print 40,000+ pages of black and pink illustrations and wild words. At the end of August, the books will be delivered to pre-orderers and retailers.
There will probably be only one edition of the book. If you want to get a ticket for the tragic treasure hunt in Nordhausen, you can pre-order "Baphomets Son" here, the book+PDF package is available here.
A translation into English is being worked on, it should be available as PDF and printed book in our e-shop by fall at the latest.

Enjoy the summer!
Cheers,
Markus